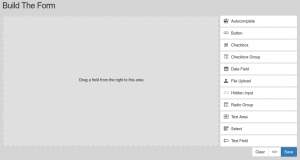 Version 1.9.0 of formBuilder introduces a number of visual and performance improvements.
Performance
Older versions relied on a textarea and it's value was previously used as a buffer with formBuilder constantly reading and writing to it. No more. formBuilder now has its own buffer and can exist without the textarea.
Saving and preview generation has been optimized to run less frequently. Previously every keystroke caused a save and preview updated… yikes
Usability and Style
The field edit button has been moved next to the field remove button. An optional confirmation message can be shown to ensure to prevent accidental removal.
Field attributes are getting somewhat long so until the new interface is ready a close button has been added to the bottom of the edit window so user's don't need to scroll back to the top of the field to close it.
Form action buttons have been moved to the bottom right of the builder just under the input types. Field previews now make use of Twitter's Bootstrap styles while remaining Bootstrap independent. This means if you have a custom theme the styles will be inherited and formBuilder will look like a part of your site or app out of the box.
Events
Events make it easier to integrate formBuilder into your app by providing hooks to be called at a specific time. This can be useful for trigger an action in your app when a field is added or recording a custom event to Google Analytics.